It's Basketball Season once again!
Our League Starts on October 9th, 2010. Early bird registration ends October 2nd
First of all, we'd like to thank everyone who participated in last year's Instructional League. The 2009 Banquet will be held on Friday May 27th.

We must stress that Basketball Beginnings runs an Instructional league and that we teach children how to play basketball using the proper techniques and basic fundamentals. It may not always be fun, but it is a learning experience.

If your child has no desire to improve his/her skills you should seek an unstructured recreational basketball program.

If your child is interested in joining this year's league, all participants will be required to attend weekly practices and work towards completing our Level 1 basketball criteria outlined in our general evaluation.Please vist our website for Basketball Beginnings Level 1 criteria evaluation, a Guidelines Handbook and a game schedule. We will provide a separate form for uniforms, please make sure they are filled out when you register. This year, we have sport-specific material to aid improvement and encourage parents to promote their child's development.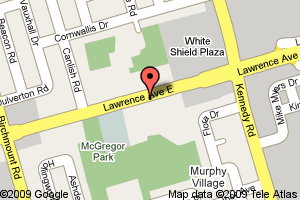 We are located at:
Winston Churchill C.I.
2239 Lawrence Ave. East Scarborough
Main Entrance (Lawrence Ave. E)